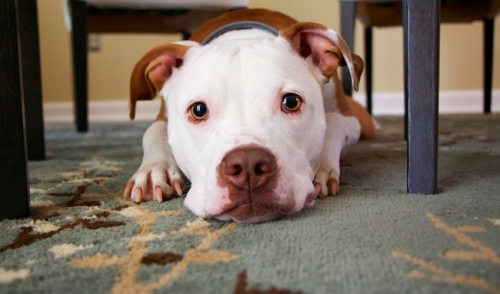 1. Take a pet CPR/First Aid class. There are many excellent books, videos, and even apps for your phone detailing pet first aid methods, but nothing can take the place of learning in person from a trained professional. Providing CPR or dealing with a blocked airway require specific skills and techniques that are much easier to learn from a trainer.

2. Keep a fully stocked pet first aid kit. You can buy a pet-specific first aid kit or make your own. You'll want to tailor your kit to any specific medical needs your pet might have, but here is a list of basic supplies that every kit should have:
1. Sterile saline solution for cleaning wounds.

2. Gauze wrap.

3. Sterile non-stick bandage pads.

4. Adhesive medical tape.

5. Non-stick elastic bandage tape (vet wrap).

6. Hydrogen peroxide for inducing vomiting in case of poisoning or excess fat ingestion.Use only as directed by a veterinarian or poison control - can cause additional harm when used incorrectly.

7. Tweezers for removing ticks or foreign objects.

8. Diphenhydramine pills (Benadryl or generic equivalent) for insect bites and other allergic reactions. Use only as directed by a veterinarian, overdosing can be fatal!

9. Scissors.

10. Styptic powder for stopping bleeding if nails are torn or clipped too short.

11. Unflavored Pedialyte or specific electrolyte solution for pets in case of dehydration.

12. Eye wash.
3. Keep your emergency numbers available at all times. Keep your vet's number, the number for an after-hours emergency vet, and the number for poison control in your first aid kit, in your wallet, and on your refrigerator for immediate access.

4. Get to the vet as quickly as possible. For anything but the most minor of injuries, you will want to follow your efforts with a vet visit. Although you may need to provide first aid or CPR for your pet, these are not meant as substitutes for vet care, but as emergency measures to keep your pet safe until you can get to the vet.