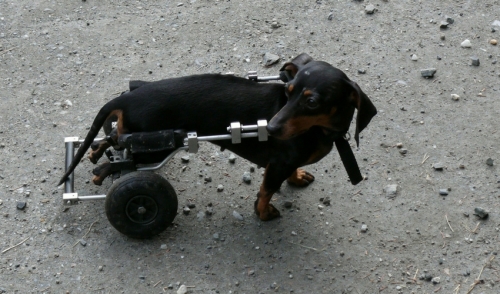 Whether you're adopting a pet with physical disabilities, or you have a pet who has lost an ability due to age, disease, or accident, remember that pets who are born or become physically disabled don't suffer emotional trauma because of it. They take each day as it comes, and easily bounce back from losing physical abilities, happily adapting to their circumstances. With a little help, they can stay safe, active, and happy.
Loss of Mobility
There are many reasons why a pet may be unable to walk as well as they used to, or at all. While using the methods below to help your pet get around, it's a good idea to consider treatment options that might improve your pet's mobility or relieve pain symptoms associated with their condition, such as pain medication, anti-inflammatories, joint support supplements, massage, physical therapy, cold laser treatments, hydrotherapy, acupuncture, surgery, etc.
Carts

For a pet who has difficulty walking, a mobility cart can change their lives. These carts hold the weak or paralyzed limbs off the ground, while the attached wheels allow them to use their good limbs to propel them across indoor and outdoor surfaces, letting them run and play with freedom. Carts can be made for cats and dogs, and configured in different ways depending on which limbs are affected. Carts can be expensive, but if you search online you can find several organizations who offer financial assistance to people who can't afford a cart on their own.


Slings/Harnesses

A body sling is a piece of cloth with handles on either end that you can wrap around your pet's midsection, allowing you to take the weight off their weak limbs so they can walk. Slings and special harnesses are good for getting your pet outside or to the litterbox for bathroom breaks, or for helping dogs get in and out of cars, or any other time when using a cart isn't practical.


Keep an eye on your pets for bed sores caused by lying in one position for too long - it's a good idea to help them switch which side they are lying on every so often so that sores don't develop. Another good reason to get them into a cart and moving as much as possible.


Ramps and pet stairs are available to help your pets get into cars or up onto furniture.


Protective wraps, padding, or booties may be needed to protect the skin on any body parts that drag on the floor when your pet is moving around without assistance.


Make sure your pet has a high quality, supportive, orthopedic bed.


If your pet's paralysis has associated incontinence, it is very important for you to help your pet keep clean with frequent bathing and spot cleaning to prevent urine burn on the skin, matted fur, and odor. Diapers are available, but should be checked and changed frequently to keep your pet's skin dry and clean. Diaper rash ointment can help, but

never

use a diaper rash ointment containing zinc oxide, as it is toxic when ingested (licked).

Some cats may find help from a litterbox with high sides but a very low entrance (making it easier for them to get in, and allowing them to lean on the walls for support).

Cats and dogs may also do well with preemptive bathroom breaks, especially as they may have trouble sensing when they have to go. Just take them outside or to the litter box several times a day using a sling or harness, to give them the option of going.

Talk to your veterinarian about whether your pet needs manual bladder expression to help keep them comfortable, prevent accidents, and to prevent bladder infections.
Blindness:
Cats and dogs who are blind may surprise you with how well they still get around. A dog's keen sense of smell, and the sensitivity of a cat's whiskers help them to navigate in a world they can't see, but they still need some extra help from you.
Introduce your blind pet to rooms or places they haven't been in before by walking them slowly around the area, letting them learn where walls, furniture, and doors are. Do the same thing if you get any new furniture or rearrange your existing furniture.


You may want to talk to your blind pet more than you would a sighted pet. It helps them to feel connected to you, helps them know where you are, and is a soothing influence on them.


Keep floors clear. Keep all floors and passageways clear of clutter, including piles of clothes or papers, toys, or anything else that might trip your pet up because it isn't normally there.


Keep a close eye on your blind dog when walking outside - always keep on a leash in crowded areas and near streets. Remember that you need to lead your dog past unfamiliar obstacles and be their guide.


Blind pets may be easily startled by being touched without warning. Educate people who come to your home or people you meet while walking your dog not to simply reach out and touch your pet - it could scare your pet, and result in a scratch or a bite for the person. To let people pet your animals, talk your pet through the entire procedure. Talk in a soothing voice, letting them know you are close to them, and then gently pet their body (not their face). Once that is accepted, your friends can join in on the petting, while continuing to talk.

Be especially vigilant if your blind pet is in an area with other pets who might try to engage your pet in play but end up causing a fight. Again, using your voice to calm, introduce your pet to other pets slowly, to help make their presence known.

If you have problems with one blind pet being startled frequently by other pets in your household, consider bell collars for your other pets. It's also a good idea for you and other family members to walk heavily and talk whenever approaching your blind pet.


Don't let blind pets out in your yard without a leash unless the yard is securely fenced.
Deafness:
Never allow deaf pets off-leash near traffic - they can't hear the cars, and they can't hear you calling them back.


You may want to work with a trainer to teach your dog some hand signals (for sit, come, etc.), but those all require that you can get your dog's attention and make eye contact first, so be very careful about letting your deaf dog off-leash.


Deaf pets may be easily startled by being touched without warning while they are sleeping or if approached from behind, potentially leading to snapping or scratching. Make sure your deaf pet knows you are there by walking heavily so they can feel the vibrations, and make sure they can see you reaching out to pet them.


Deaf pets also run the risk of not hearing warning signs from other animals, such as growling or hissing, which can be a problem if you have a playful deaf pet who tries to engage other animals in play and doesn't realize they aren't interested. Keep a close eye on interactions between your pet and others until you see how they behave.


Don't let deaf pets out in your yard without a leash unless the yard is securely fenced.